3Rivers Business Mastercard®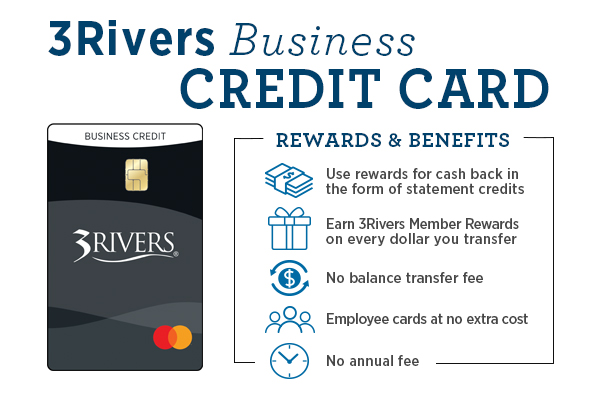 3Rivers is proud to offer a 3Rivers Business Mastercard® credit card that pays you cash when you use it! This no-cost, low-rate rewards credit card1 offers convenience and security for your business and your employees. Should you need additional credit cards for other officers or employees, we offer three flexible options to meet your business needs. Plus the 3Rivers Business credit card is equipped with EMV chip and contactless technology to help keep your business and purchase information more secure and transactions simple.
The 3Rivers Business credit card lets you choose between cash back2, merchandise, gift cards, and travel. 3Rivers makes it easy and gives you all the rewards in one easy-to-use card.
Contact a 3Rivers Relationship Team Member or Business Team Member to apply.
Rewards
1 point for every dollar spent
Cash back option on earned rewards used in the the form of statement credits
Redeem points for everyday business expenses to help with travel costs, to reward employees, or to entertain clients
Rewards are redeemable through UChooseRewards either by employee or cumulative as a business
Account is automatically enrolled in rewards program
Discover more about your Mastercard's core benefits.
Convenient & Flexible Payment Features
Consolidated or individual pay card options
Payments can be made over time with interest
1The APR as of 6/01/22 is as low as 11.70% and is based on cardholder's creditworthiness but is subject to change if rates increase due to change of index. There is no annual fee and no balance transfer fee for the 3Rivers Business Mastercard credit card.
2The earning cash back is equal to 1 point for every $1 transferred or purchases made with the 3Rivers Business Mastercard. Cash back is not redeemable by way of cash or check, but in the form of statement credits. Rewards can be redeemed at www.uchooserewards.com.
All offers may end at any time without prior notices.
Business Mastercard Credit Card
Last updated: 10/1/2023
| Perk | Description |
| --- | --- |
| Annual Percentage Rate1 | As low as 16.20% APR1 |
| Minimum Finance Charge | NONE |
| Annual Fee | NONE |
| Grace Period | If you pay your previous balance in full on or before the due date shown on your previous statement, you will have a grace period on purchases of 25 days from the statement closing date to the payment due date. |
| Cash Advances | 3% |
| Balance Transfer Fee | NONE |
| Over Limit Fee | NONE |
| Late Payment Fee | $25.00 if payment is more than 10 days late |
| Method of Computing Balance | Average daily balance including new transactions |