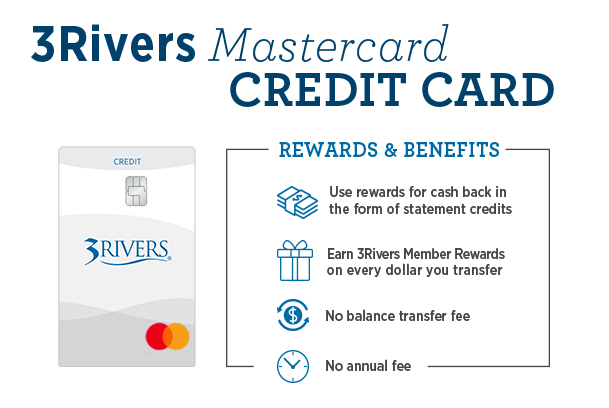 You don't need multiple cards to get the rewards you want. The 3Rivers Mastercard® credit card lets you choose between cash back1, merchandise, gift cards, and travel. We make it easy and give you all the rewards in one easy-to-use card!
There's no balance transfer fee2 and no annual fee2. Plus, the 3Rivers Mastercard credit card is equipped with EMV chip technology to help keep your personal and purchase information more secure.
Apply Today Schedule Appointment
The 3Rivers Mastercard earns you one point for every dollar spent on everyday purchases and balance transfers!. You can redeem these points at UChoose Rewards for cash back1, merchandise, travel, gift cards, and more.
Some examples of the rewards you can earn include:
Cash Back: Cash back rewards are redeemable as statement credits.
Merchandise: Items that can be purchased range from electronics (computers, TVs, games), to home garden products, to office equipment, and more.
Travel: Going on vacation? Use your points toward the cost of hotels, airline tickets, rental cars, and cruises!
Gift Cards: Treat yourself or a loved one to a gift card to your favorite restaurants, gas stations, apps, and more from top retail stores.