Mirza Halilovic
Community Retail Manager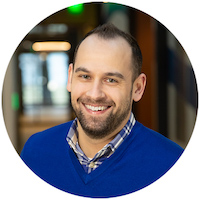 Mirza Halilovic has been with 3Rivers since 2012, serving as a Branch Manager until 2020, when he transitioned into his role as a Community Retail Manager.
Mirza was born in Bosnia & Herzegovina, lived in Germany in the mid-1990s, and moved to the United States in 1998. In addition to English, he's also fluent in Bosnian and German. He studied Organizational Leadership & Supervision at IPFW, graduating in 2008, and completed the YLNI Leadership Institute in 2015.
He's passionate about building long-lasting relationships and is known for taking a servant leadership style approach in serving our members—always keeping others and their best interests top of mind, walking alongside them every step of their financial journey. He loves improving members' financial wellness and strives to ensure they're satisfied with every experience they have at 3Rivers in order to create lifelong credit union partnerships.
Note: Electronic mail (email) is not secure. Any confidential or sensitive personal/business information should not be communicated in this manner.