Careers that serve our members, our community, and

you.
With so many companies hiring these days, you have a choice of getting a job or establishing a career.
3Rivers thrives because of our dedicated employees. Our commitment to promoting from within creates multiple opportunities for growth, so we're constantly recruiting the next round of excellence for Team3. If you're looking for a company that builds up and gives back, we'd love to welcome you to our award-winning team!
A career at 3Rivers will leave you feeling personally and professionally fulfilled if you're a go-getter who thrives in a fast-paced and innovative environment. Financial wellness for our members and our team members is our number one focus. We're not your average financial institution and our only constant is change, so you have to bring passion and excitement for getting the job done!
We're constantly on the lookout for new team members with dynamic personalities who are ready to add their own range of talents, passions, and expertise to Team3. Our "people strategies" are designed to realize each team member's potential using proven career paths and individual development to help them move up fast! We also offer a variety of benefits to complement our unique compensation and generous bonus plan for continuous performance.
What else should you know about us? We pride ourselves on our:
Strong training and development culture. Our goal is to prepare each and every team member for career advancement. In 2021 alone we had 136 internal promotions!
Community giveback. Giving back to the communities we serve is an important way for us to show we're a company that cares. We grant two paid volunteer days each year and Team3 can participate in our annual all-employee Give Back Day as well as countless sponsored events.
Variable incentive program. We believe the house has to win by doing what's right for our membership and we pay generously when Team3 achieves the goals that show we're running a safe and sound institution. Our base plus variable compensation has paid out at the highest level for the past 27 quarters! We also provide a 5.5% 401K match so your own wealth continues to grow.
Health benefits. The mental and physical well-being of our team and their loved ones is of the utmost importance to us. We provide a robust benefits package (see chart below) to ensure access to the best resources and providers.
Paid vacation, sick, float, and holiday time off. It's important that our team has the time off needed to maintain a healthy work-life balance. We have 9-10 paid holidays every year, as well as paid vacation, personal/sick time, and floating holidays.
High commitment to diversity, equity, and inclusion. We firmly believe that everyone should feel welcome, equal, and safe in the workplace and have an ongoing commitment to better understand and strengthen this area by partnering with organizations like the United Front Initiative.
An open-door policy. 3Rivers is a collaborative environment through and through. Team3 is able and encouraged to connect with each other, regardless of role or location. Our monthly financials meeting is open to all team members, and just one of the many opportunities available to listen, learn, and speak candidly.
A future-focused mindset. Most importantly of all, we know we're not perfect! There are several areas in which we can and will always have room to advance and improve—for our members and our team. Thankfully, we're a progressive company that craves ideas and innovation. We're not afraid to try new things and rely on the knowledge, experiences, and opinions of our employees to get better!
Are you ready to start a career you love and grow with us? See our current openings below!
3Rivers Federal Credit Union is an Equal Opportunity Employer/Vet/Disability. Notice of Rights EEO is the law.
———
Current Career Openings:
Our Benefits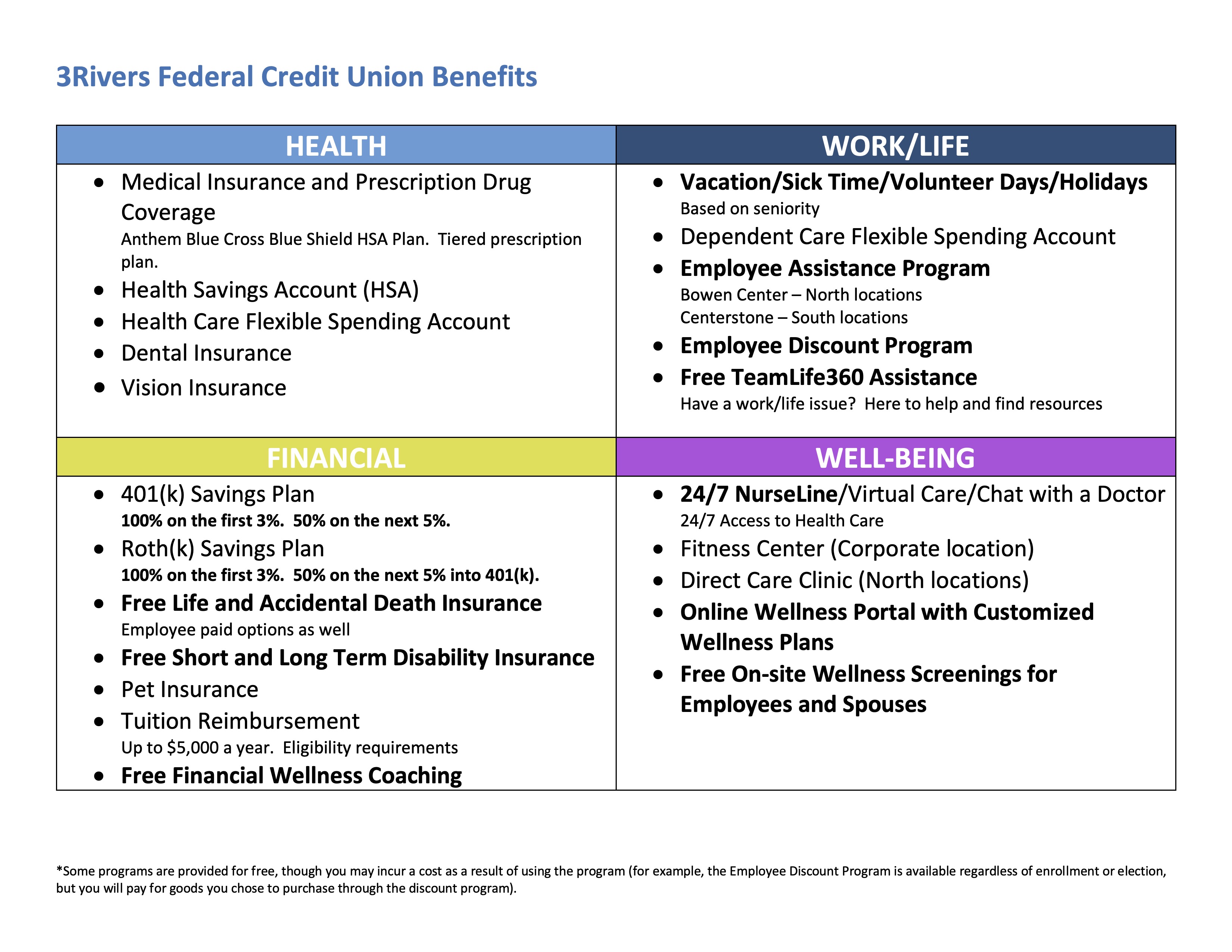 Living & Working in Northeast & East Central Indiana
We're proud to call the vibrant and ever-evolving communities we serve "home." Like so many of the incredible businesses and organizations throughout Northeast and East Central Indiana, 3Rivers is committed to investing in the ideas and the people that spark change and progress for a brighter future.
If you're searching for a career in our region, you'll be happy to learn that, not only will you love working here, but living and playing here, too. The affordable cost of living, countless things to do, close proximity to some of the Midwest's most major cities, and more, will cause you to fall in love with far more than your job!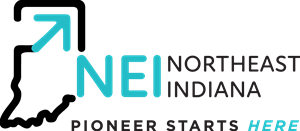 We offer space to pull up a chair, plant your roots, and belong to a community of makers, creatives, and entrepreneurs that make this part of the Midwest so special.
Northeast Indiana Regional Partnership Economic Development Corporation of Wayne County