Careers that serve our members, our community, and

you.
3Rivers thrives because of our dedicated employees. Our commitment to promoting from within creates multiple opportunities for growth, so we're constantly recruiting the next round of excellence for Team3. If you're looking for a company that builds up and gives back, we'd love to welcome you to our award-winning team!
We're always seeking those with dynamic personalities who are ready to add their own range of talents, passions, and expertise to Team3. Our "people strategies" are designed to realize each team member's potential using proven career paths and individual development to help them move up fast!
What else should you know about us? We pride ourselves on our:
Strong training and development culture. Our goal is to prepare every team member for career advancement. In 2022, we had 124 internal promotions!
Community giveback. Giving back to our communities is at the heart of all we do. Every team member gets two paid volunteer days per year and countless opportunities to be a part of our sponsored events.
Variable incentive program. Eligible team members receive generous bonus compensation when Team3 achieves the goals that show we're running a safe and sound institution.
401K match. We provide a 5.5% 401K match, so your own wealth continues to grow.
Company-paid mentoring, development, and board opportunities. To date, hundreds of employees have benefited from programs like Engage Mentoring, Young Leaders of Northeast Indiana (YLNI), Leadership Fort Wayne, Wayne County Leads, and our in-house board training program, Community LEADERS.
Health benefits. The mental and physical well-being of our team and their loved ones is of the utmost importance to us. We provide a robust benefits package (see chart below) to ensure access to the best resources and providers.
Paid vacation, sick, float, and holiday time off. It's important that our team has the time off needed to maintain a healthy work-life balance. We have paid holidays every year, as well as paid vacation, personal/sick time, and floating holidays.
A commitment to diversity, equity, and inclusion. We firmly believe everyone should feel welcome and and safe in the workplace. We champion inclusivity, equality, and individuality by putting our people first.
Ready to start a career you love and grow with us? See our current openings below!
3Rivers Federal Credit Union is an Equal Opportunity Employer/Vet/Disability. Notice of Rights EEO is the law.
———
Current Career Openings:
3Rivers Benefits
HEALTH
Medical Insurance & Prescription Drug Coverage
Anthem Blue Cross Blue Shield HSA Plan
Health Savings Account (HSA)
Health Care Flexible Spending Account
Dental Insurance
Vision Insurance
WORK/LIFE BALANCE
Vacation, Sick Time, Volunteer Days, Holidays
Based on Seniority
Dependent Care Flexible Spending Account
Employee Assistance Program
Bowen Center - North Locations
New Avenues - All Locations
Free TeamLife360 Assistance
FINANCIAL
401(k) Savings Plan
100% on the first 3%, 50% on the next 5%
Roth(k) Savings Plan
100% on the first 3%, 50% on the next 5%
Free Life & Accidental Death Insurance
Additional Employee Paid Options Avaliable
Free Short & Long Term Disability Insurance
Pet Insurance
Tuition Reimbusement
Up to $5,000/yr, Eligibility Requirements
Free Financial Wellness Coaching
WELL-BEING
24/7 NurseLine, Virtual Care, Chat with a Doctor
Employee Paid Fitness Center (Corporate Location)
Online Wellness Portal with Customized Wellness Plans
Free On-site Wellness Screenings for Employees & Spouses
*Some programs are provided for free, though, you may incur a cost as a result of using the program. (For example, the Employee Discount Program is avaliable regardless of enrollment or election, but you will pay for goods you choose to purchase through the discount program.)
Living & Working in Northeast, Central & East Central Indiana
We're proud to call the vibrant and ever-evolving communities we serve "home." Like so many of the incredible businesses and organizations throughout Northeast, Central, and East Central Indiana, 3Rivers is committed to investing in the ideas and the people that spark change and progress for a brighter future.
If you're searching for a career in our region, you'll be happy to learn that, not only will you love working here, but living and playing here, too. The affordable cost of living, countless things to do, close proximity to some of the Midwest's most major cities, and more, will cause you to fall in love with far more than your job!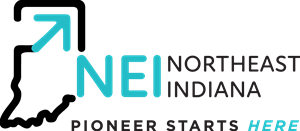 We offer space to pull up a chair, plant your roots, and belong to a community of makers, creatives, and entrepreneurs that make this part of the Midwest so special.
Northeast Indiana Regional Partnership Economic Development Corporation of Wayne County