3Rivers: Helping People Understand Money Matters Since 1935
Friday, February 13, 2015
Community
Valentine's Day, 1935. Amelia Earhart had just become the first person to fly solo from California to Hawaii. Ma Barker had been killed in an FBI shootout. Bruno Richard Hauptmann was convicted of kidnapping and murdering the Lindbergh baby. Porky Pig was about to make his cartoon debut.
In Fort Wayne, Harry Baals had just been elected mayor. The Fort Wayne Chiefs, a class B baseball team, were about to play their final season for the Illinois-Indiana-Iowa League. Helene Foellinger, first female editor of The Fort Wayne News-Sentinel, would soon be placed on the News Publishing Company board of directors.
And on the campus of International Harvester Company, the IHC Fort Wayne Employees Federal Credit Union was created. The credit union's charter (only the 159th in the United States) was approved on February 28, but it would not begin operations until April 1, 1935.
Starting with assets of $250, the fledgling credit union would reach its first $1 million in 1947 and would grow to be Indiana's largest credit union by 1965.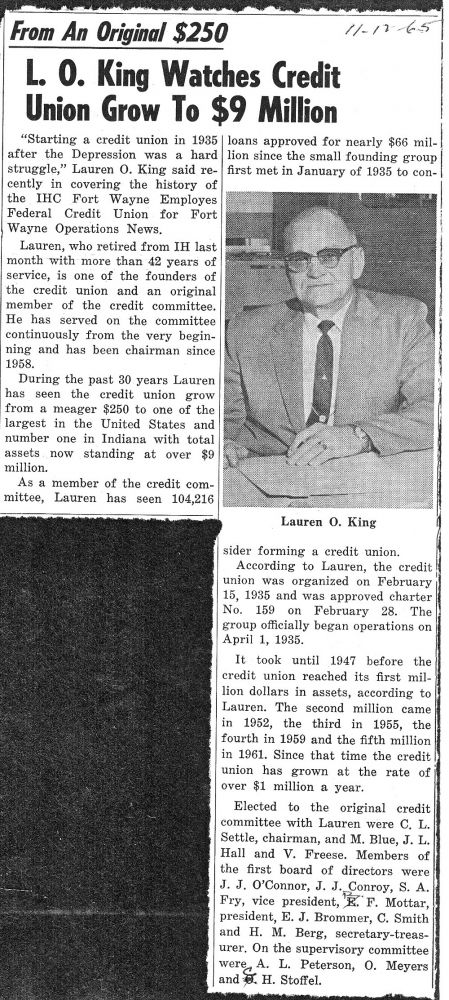 When Fort Wayne's economy struggled in 1982, the management at the IHC Fort Wayne Employees Federal Credit Union knew it was important to the city and to its residents to retain the option of a credit union. So they changed the credit union's name to Three Rivers and opened up membership to area businesses that were without the benefit of credit union services.
Throughout this, our 80th anniversary year, we will be sharing some interesting tidbits about life in our city and our nation in 1935, as well as some of the history of 3Rivers. We welcome you to join us as we reflect back and keep moving forward!