A Voice for the Good: AWS Foundation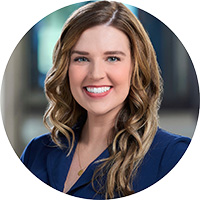 Thursday, March 30, 2023
A Voice for the Good
3Rivers is proud to support so many of the non-profit organizations that are committed to making our community a better place to live, work, and play, and we want to help spread the word about the difference they're making in our region. We've teamed up with 97.3WMEE to bring you A Voice for the Good podcast to do just that! We're temporarily bringing the podcast to you via these Q&A online articles, as we're doing our part to social distance and keep our community safe.

This article features the AWS Foundation—a local non-profit on a mission to "help children and adults with enduring intellectual, developmental and physical disabilities live as independently as possible, be included in the community and function at their highest potential."

We talked with Patti Hays, CEO of AWS Foundation, to learn more about this organization and its work in the Northeast Indiana community.
How did AWS Foundation come to be? What's the history/story behind how the organization initially got started?
AWS Foundation was founded in 2007 when the board of directors of the former Anthony Wayne Services wanted to secure future services for people with disabilities that advanced their mission. Reorganization resulted in three entities, Benchmark Human Services, AWRC (a nonprofit) and AWS Foundation. While this is the origin of the name, the Foundation is now correctly known as simply 'AWS Foundation.'
What is the official mission of AWS Foundation, and how is it currently being put into play in Northeast Indiana?
Our mission is to help children and adults with enduring intellectual, developmental, and physical disabilities live as independently as possible, be included in the community and function at their highest potential. We serve this mission mostly through grantmaking but have a few projects beyond this scope as well.
AWS Foundation awards grants to nonprofits in Northeast Indiana that have goals that match our mission. From universally designed public spaces, operating support of disability service providers, to scholarships supporting public schools in their increased need for licensed special educators, we work to ensure our communities across the region are inclusive of people with disabilities. Our grant dollars are primarily awarded in three grant cycles per year.
We provide multiple resources and services beyond those funded by our grants. Let me highlight two of the bigger ones.
The Disabilities Expo is a free annual event in May (taking place May 13 this year) at the Allen County War Memorial Coliseum. The event features more than 120 vendors showcasing various products and services for people with disabilities and their caregivers. Around 1,200 people from across the region attend our annual Disabilities Expo. In addition to finding products and services, we celebrate disability through performances, adaptive sports clinics, and a regional art exhibit and sale.
Indiana Disability Resource FINDER is an online guide to finding products, services, and other support across Indiana. We launched this program in March 2019 to answer a prevalent issue faced by families of those with disabilities in finding resources to support their loved ones. While our mission is solely for Northeast Indiana, we know that this issue is state-wide, and having a regional silo of information would be less effective. Once the website was created, we house it with our state's Disability Center of Excellence (Indiana Institute on Disability and Community in Bloomington) to manage. We still stay fully engaged in ensuring the success of this program.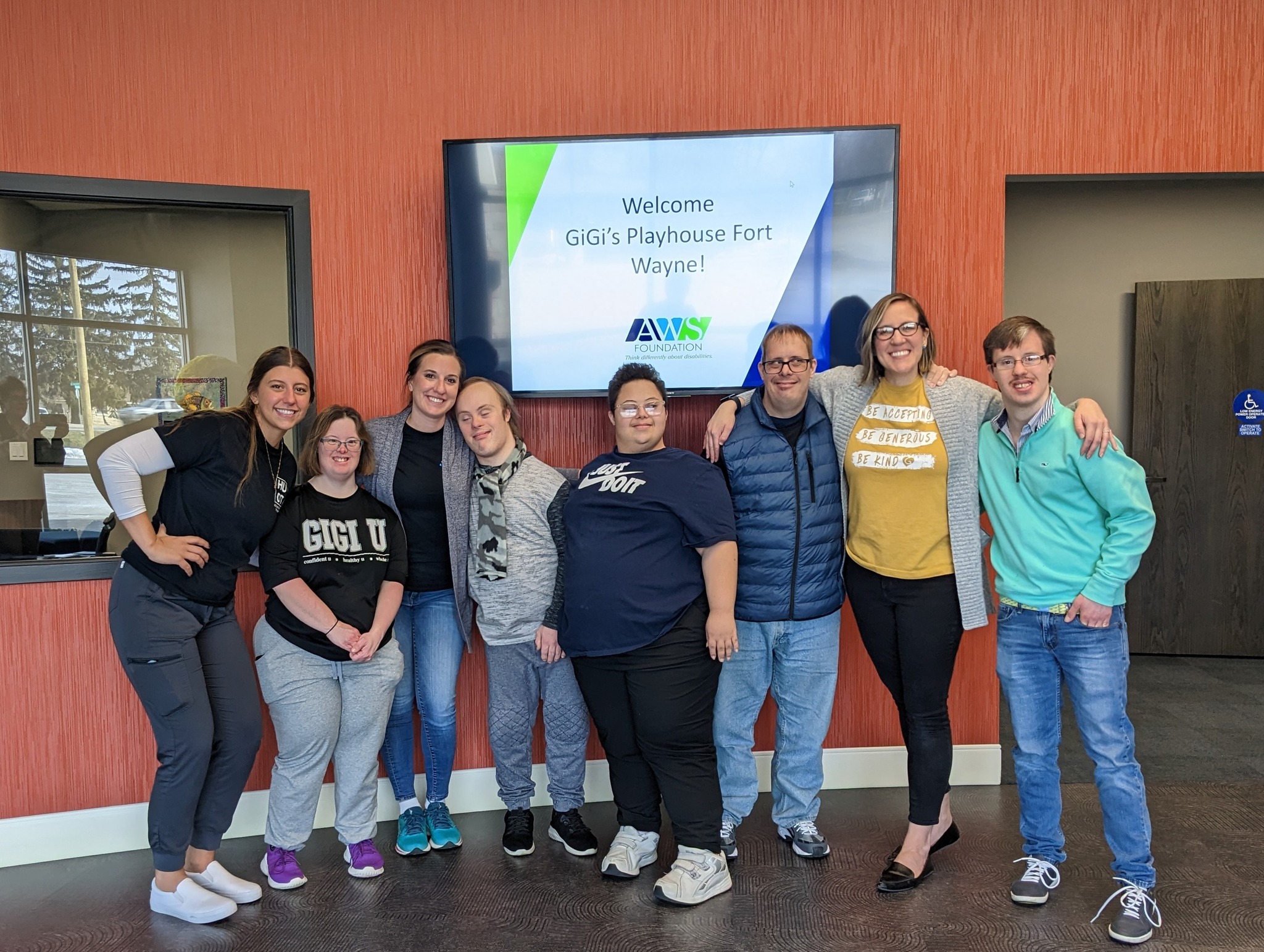 How do you see the mission and vision of AWS Foundation evolving in the future in the Northeast Indiana community? Where do you see your organization a year from now, or even five years from now?
We recently underwent a strategic plan which has mapped out our goals for the next 3-5 years. Through focus groups, surveys, and many discussions with constituents, grantee organizations, our staff and board, we determined a few key areas on which we will focus. The future of AWS Foundation will have more funding reach our rural counties, as well as increased support in employment training and opportunities for people with enduring disabilities. We will also focus on the training on disability industry standards and universal design in addition to nonprofit management areas for grantee organizations.
Are there any exciting new developments, updates, or changes that have recently taken place at AWS Foundation?
In December 2019, we moved to our new office building. Prior to this, we shared space in the Benchmark Human Services headquarters on Bluffton Road. Now in a highly-visible location on West Jefferson Blvd., our universally designed office is where our team works daily. We also have two rooms that are open for community use, providing accessible space for nonprofits to have meetings, workshops, etc. Priority goes to our grantee organizations, but we welcome other inquiries on our website.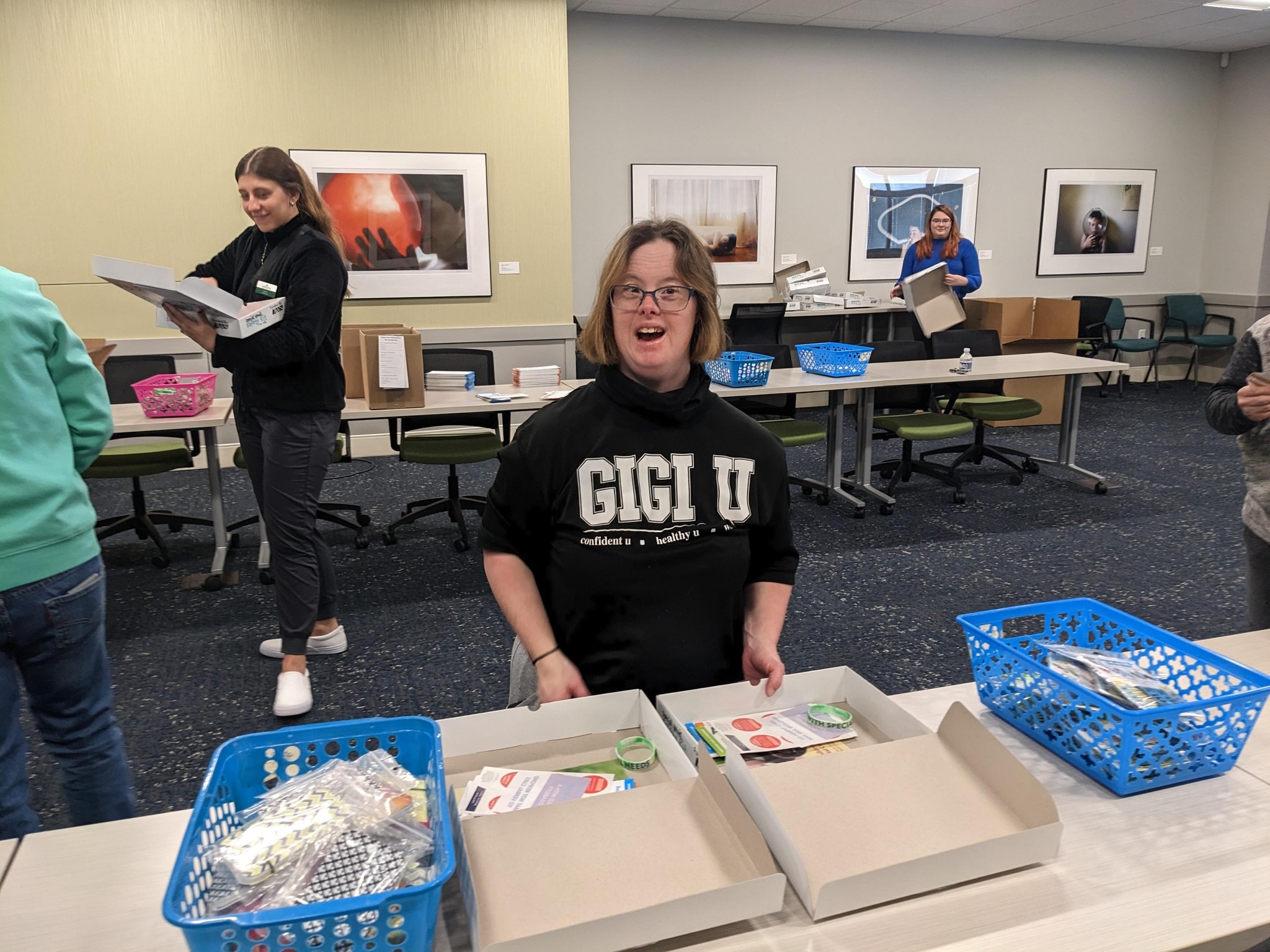 What kind of impact has the global pandemic had on AWS Foundation, and how has the organization pivoted or gotten innovative in response?
While the pandemic definitely impacted everyone, it did not affect our ability to serve our mission. During lockdown, we broadened our community support by providing emergency funding to nonprofits covering immediate needs related to the pandemic. While that funding was temporary and not necessarily focused on our mission, we knew that in supporting our region with emergency funding, we would still be helping people with disabilities
COVID took a great toll on the disabled and on disability service providers. We provided masks initially and then unsolicited funding to 11 non-profit direct disability service providers in Northeast Indiana. Awards of $50,000 to each of them helped offset lost income.
This furthered our rumination on how something like a pandemic can so greatly impact the work of our disability service providers. It exacerbated other systemic problems that they never have time to fully address due to lack of funding and time. This led to the creation of the Vantage Grant. This two-round program was offered to those same service providers. It started with a $75,000 grant to work with a consultant to figure out their greatest barrier and a plan to overcome it. Then, they were given the opportunity to apply for up to $1,000,000 to solve the problem. Through this process, we awarded over $9,000,000 to nine organizations to help them overcome their barriers to better serve their clients with disabilities. We have just reached a year since the first round received their award and we have already seen great impact.
Could you share a standout story or two that really illustrates the impact AWS Foundation and/or its programs has on those in our community?
AWS Foundation provided early funding in Phase 1 of the Fort Wayne Riverfront (Promenade Park). When matching dollars were available from Lilly, we got involved and remain involved with the parks to ensure disability is in mind each step of the way. In the planning of Phase 1, architects hosted focus groups with disability service providers and people with disabilities about universal design. The results of these efforts gave our community a park welcoming to all!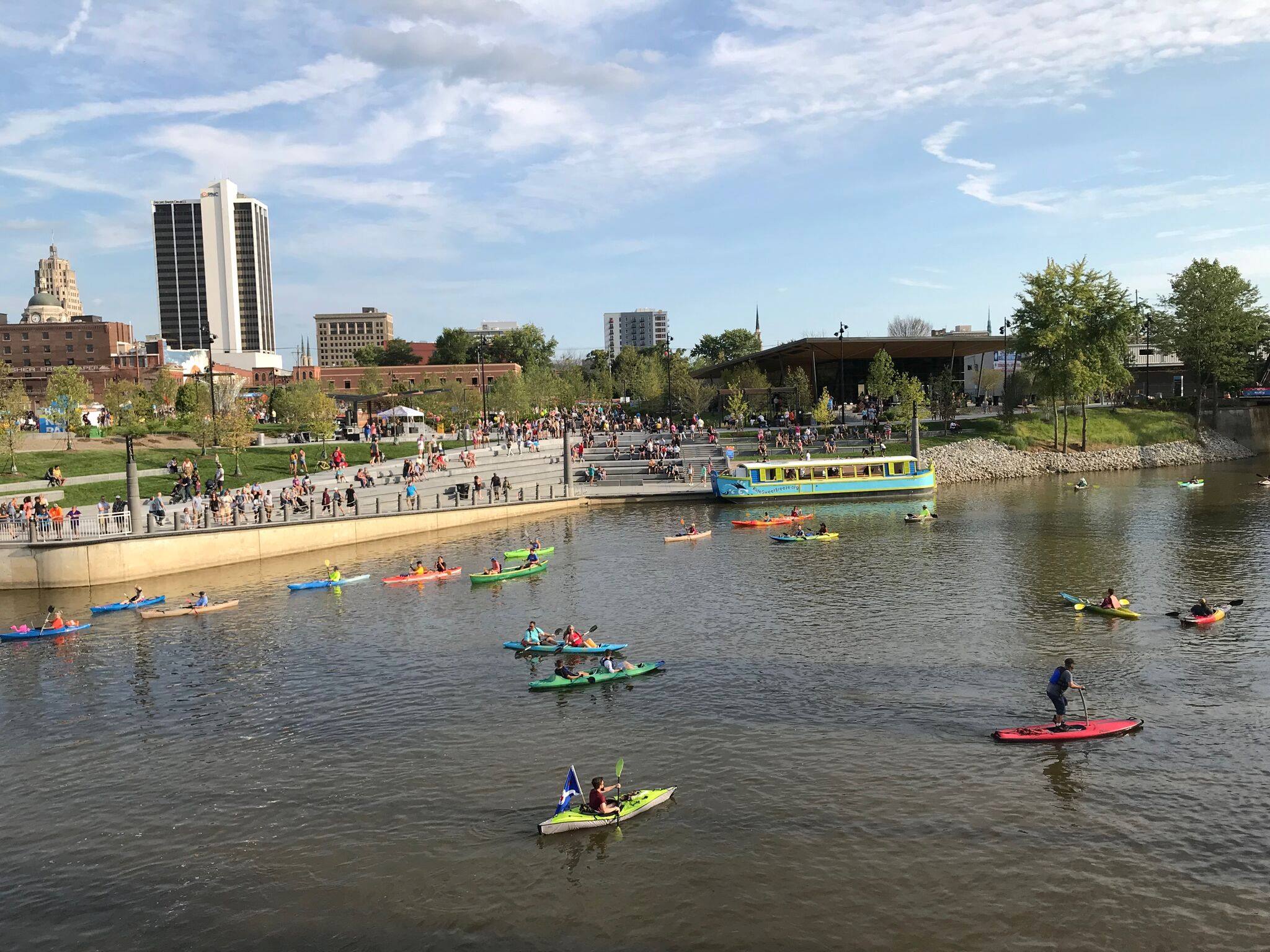 A tactile ribbon along the paths supports those who are blind or have low vision in finding their way around. A special layer beneath the surface of the lawn allows for drainage so that wheelchairs can still roll on after heavy rain. The family restroom inside the pavilion includes a changing table large enough to fit an adult, respecting the dignity of all park visitors. A floating dock allows for the ability to hop into a kayak from a wheelchair and all docks have detectable warning strips for those with visual impairment. Swings, playground, tree top canopy trail, and old wooden bridge paths are all fully accessible because of planning and deliberate design. These are just a few of the many inclusive features of Promenade Park; features that other recreation activities across the region are beginning to adopt. Additionally, as we look toward the next phases of the Riverfront development, disabled people continue to be at the planning table.
How can those interested in your services go about getting started or getting in touch?
If you have a program or project that meets our mission or want to talk about ideas of ways to be more inclusive of those with disabilities, reach out to our grants team.
Are there other local non-profit organizations that AWS Foundation works/partners with to enhance their programs?
We have funded over 180 organizations since we began grantmaking. Each of those organizations is key to our mission as they do work in our communities. In fact, most entities in our region have the potential to be a partner in serving the mission of disability inclusion.
Are there opportunities for community members to volunteer at AWS Foundation—and if so, how can they go about learning more?
We typically only need volunteers during our Disabilities Expo. If anyone would like to volunteer for that event on May 13, they can email the coordinator, Andie Mosley, at amosley@awsfoundation.org.
The majority of our grantees rely on volunteers, and for the person with an interest in working with the disabled, I am confident they would welcome the inquiry!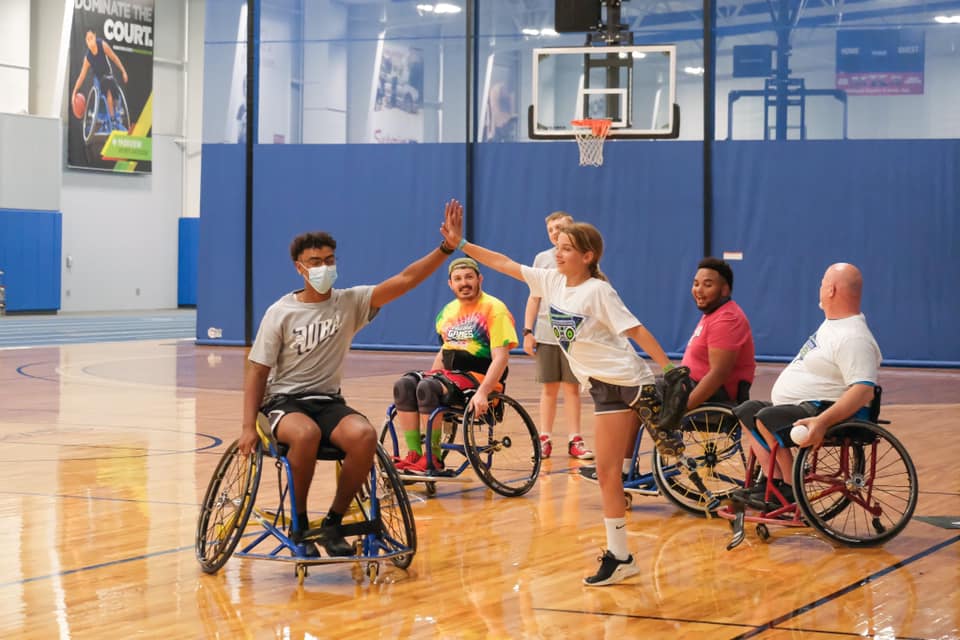 In what other ways can community members support AWS Foundation—be it through monetary donations, material donations, education, etc.? Do you have an itemized wish list of any kind or utilize options like AmazonSmile to raise funds?
The best way to support AWS Foundation is by adopting our mission as general practice in your work and life. Evaluate your hiring practices on their accessibility and bias. Does your neighborhood association make an effort to include neighbors with disabilities? When working on a project, get feedback from disabled people. Work toward Universal Design in your community. Anyone can become disabled at any time in their life, and ensuring inclusion in all aspects of life will enable us to continue enjoying our favorite parts no matter what.
Where can our readers learn more about AWS Foundation or about getting involved?
To learn more about our work, go to awsfoundation.org, follow us on Facebook, Instagram, and/or LinkedIn, and subscribe to our monthly e-newsletter.
Is there anything else you'd like our readers to know about AWS Foundation?
We always like to remind people that when you design for disability, it benefits everyone. As we work to create a region that is intentionally universally designed, we welcome community leaders to come talk with us about how they can do their part. Even if it's not about funding, we want to help point you in the right direction of being fully inclusive of people with disabilities. Because the community that is inclusive is available to everyone, everywhere and always.
Interested in featuring your non-profit on our website and on 97.3WMEE's A Voice for the Good? Text "VOICE" to 46862! Please note that this may lead you to incur standard text messaging rates or other applicable charges consistent with your wireless carrier/mobile phone plan.