A Voice for the Good: Community Harvest Food Bank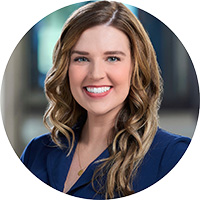 Thursday, May 11, 2023
Community
3Rivers is proud to support so many of the non-profit organizations that are committed to making our community a better place to live, work, and play, and we want to help spread the word about the difference they're making in our region. We've teamed up with 97.3WMEE to bring you A Voice for the Good podcast to do just that! We're temporarily bringing the podcast to you via these Q&A online articles, as we're doing our part to social distance and keep our community safe.
This article features Community Harvest Food Bank—a local non-profit on a mission to "alleviate hunger through the full use of donated food and other resources."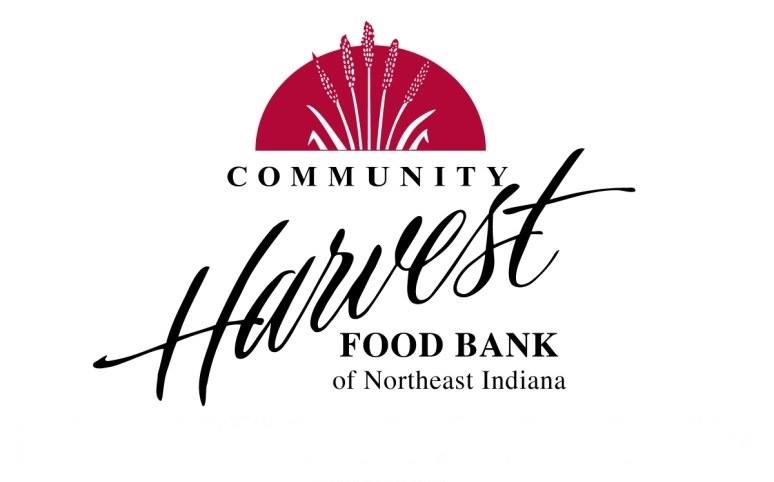 We talked with Carmen Cumberland, President and CEO of Community Harvest, to learn more about the organization and its work in the Northeast Indiana community.
How did Community Harvest Food Bank come to be? What's the history/story behind how the organization initially got started?
Nineteen eighty-two was a very hard year for residents of the Fort Wayne area. International Harvester, one of the area's largest employers, closed their doors permanently, less than a year after historic flooding paralyzed the area. Over 2,000 people were suddenly without jobs in a city that had already lost millions of dollars in damage to thousands of homes, and people didn't know what to do. Local community members joined together to help feed families in crisis. Community Harvest officially organized in 1983, and today serves as the regional food bank of northeast Indiana, distributing over 13 million pounds of food to more than 91,500 people across the nine-county region.
I like to say that what began as a grassroots community effort has now developed deep roots in the community, and we are so proud to carry out this hunger relief mission with the generous and important help from those who share our goals for a hunger-free future.
What is the official mission of Community Harvest Food Bank, and how is it currently being put into play?
Our mission is to alleviate hunger through the full use of donated food and other resources. It's a focus and responsibility that we take very seriously, and we collaborate with other organizations with expertise and goals that serve similar populations who visit for food assistance.
How do you see the mission and vision of Community Harvest Food Bank evolving in the future in the Northeast Indiana community? Where do you see your organization a year from now, or even five years from now?
In short, I see us doing more. We have plans in the works to evaluate some of our kids programs, we have goals in our strategic plan to increase sourcing of produce and meats to represent a higher percentage of our distributed food than ever before, and we're setting up endowments in all nine counties in our community to help fund it all. We're really working on reaching people we've never reached, particularly in disadvantaged neighborhoods in Allen County and in rural communities spread out over the other eight. We know the need is out there, and we've got good, solid programs and great people, so we are really putting our energy into expanding that to more people in need over the coming years. The need for what we do is increasing, so our ability to meet it needs to increase as well. It simply has to.
Are there any exciting new developments, updates, or changes that have recently taken place at Community Harvest Food Bank?
We have been doing this for a while and have gotten some amazing results with the programs we've put together, but we're always looking for the next way to make a difference. We got here by never fearing change, and we have to continue to embrace that if we're going to continue to rise to the occasion and fight hunger wherever it exists within our community. We introduced our "Grow a Row" program which builds off of our massive, wonderful support network of volunteers and neighbors and encourages everyone to use a small part of their gardens at home to grow food to either distribute themselves or to bring to us and we will absolutely find people that need it. It's a program that really encapsulates the truth that we are in this together, as a community, and the difference we can make when we all pitch in is really astounding.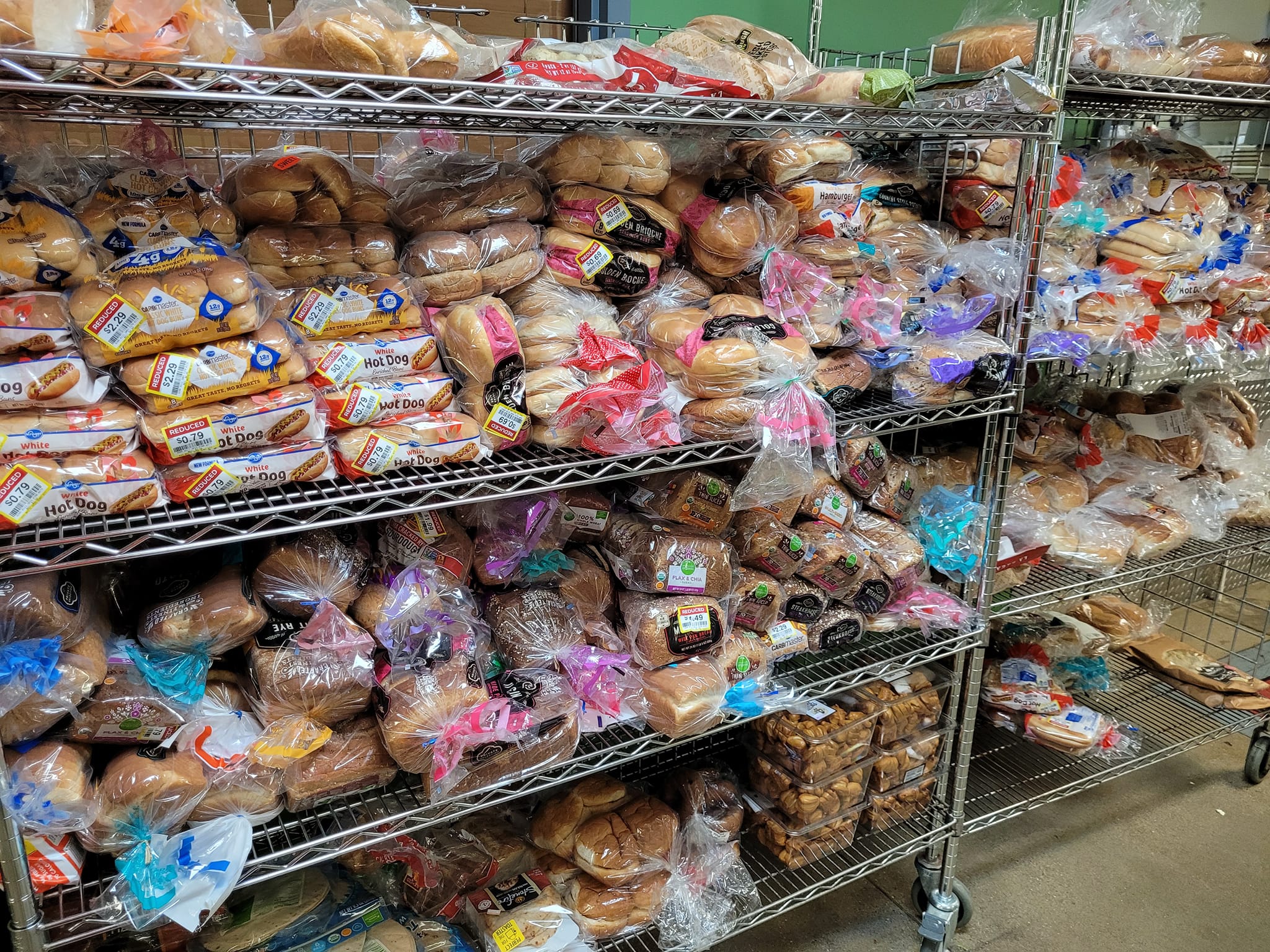 We are going to make client surveys a much larger part of what we do as well. As we're trying new things and working on reaching more people, being able to evaluate how we're doing from the community we're trying to help is essential. We need to hear from those in need, and we're always eager to listen. The people we help, the growing numbers we see every day, each one is attached to an entire life and experience outside of our small interactions when we see them, so these stories we hear from clients make all the difference. They show us why we do what we do. We distributed over 13 million pounds of food last year, that number will in all likelihood be higher this year, but those numbers don't mean anything without the faces, the lives, and the stories behind them, so don't be surprised if you see that become a much larger part of what we do.
What kind of impact has the global pandemic had on Community Harvest Food Bank, and how has the organization pivoted or gotten innovative in response?
It was huge. Everyone had to pivot for COVID and we were no exception. We saw record numbers of people in need with thousands out of work, supply shortages, and so many stores closing their doors. It was the perfect storm. We had a lot of help from generous donors, foundations, the government was helping where they could – the Indiana National Guard was deployed to the food bank to help staff after losing our volunteers. We moved all of our distributions to drive through for safety reasons, and even now with the pandemic behind us, we haven't switched back. It was one of those things where we had to move fast and figure something out and it was a lot of work, but once we got it going were saying "hey, this actually makes a lot of sense." We're helping over 1,100 families in two hours every Saturday now because we're having them drive through and helping six cars at once. The pandemic was awful, but we were able to respond effectively due to overwhelming support from so many places. It was an amazing feeling to have everything we needed in order to serve everyone who came each day. At the same time, we knew the emergency support wouldn't last forever, so that's where our new strategic plan comes in with a focus on sustainability. During that time, we became aware of just how huge the need is for what we do and we're going to do everything we can to stick right there with it.
Could you share a standout story or two that really illustrates the impact Community Harvest Food Bank and/or its programs has on those in our community?
The one that comes to mind actually happened very recently – we had an elderly woman come in and use a voucher she had gotten at an agency of ours in the Community Cupboard. Up until the day prior, she was not in need of our services at any point. That last week, however, her son brought his three children to her house, dropped them off, left, and she had not seen him since. Suddenly, an elderly woman on a single fixed income was responsible for three additional dependent family members, and she came to us for help. We all know the various hardships that people face and we try to understand what it means to need services like ours or what leads them to us. We have to remember that no two stories are the same, and the circumstance that leads someone to our door is not always predictable or obvious. This is why our main focus is reducing as many barriers to service as possible, so that families do not fall through the cracks in the system when they need a safety net the most.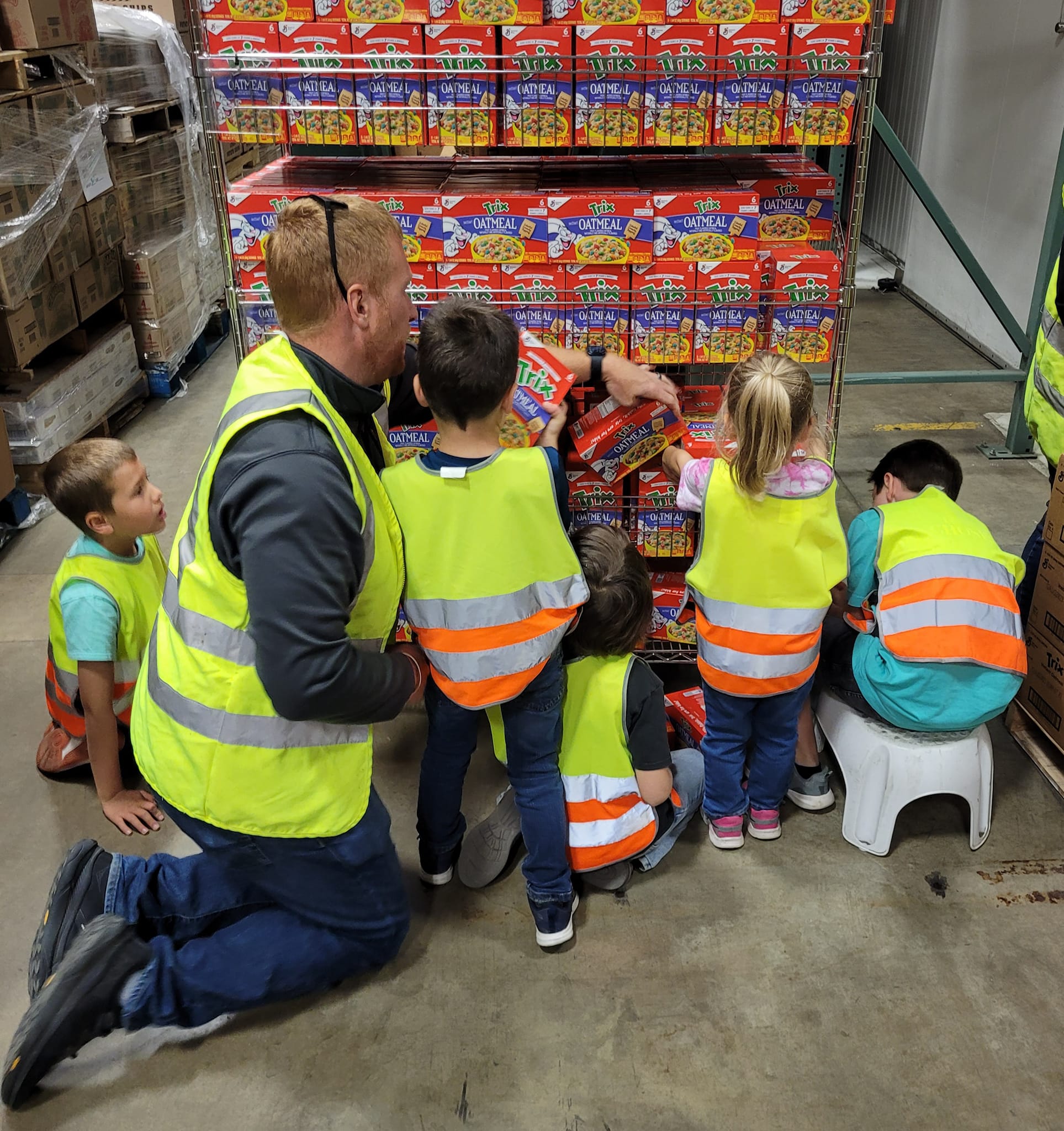 How can those interested in your services go about getting started or getting in touch?
One of our biggest goals is to reduce barriers for people who need help. We rescue food that would have otherwise gone to waste, and there are thousands of people who need a meal on the table. It is our mission and responsibility to get this good food into the hands of individuals and families who need it. We have public distributions open to anyone throughout northeast Indiana, visiting each county in our service region at least once per week. We also have tailored programs for Veterans, seniors, and kids. Anyone who needs assistance is welcome to visit our website at CHFB.org, call us at 260.447.3696, or visit us for emergency food assistance any time during business hours. We are always here to help.
Are there other local non-profit organizations that Community Harvest Food Bank works/partners with to enhance their programs?
Community Harvest partners with over 350 nonprofit member agencies that access food from our warehouse for their own distributions or through a voucher program where they can refer families directly to our pantry. As a regional food bank, we operate a little differently than people might expect, and over a million pounds of food go through our food bank every month. While we have ten programs that serve the public directly, our member agency partners are the real boots on the ground, getting food into communities through their own pantries, youth programs, shelters, churches, and more.
We also partner with several organizations in a collaborative way, and we're always looking for more. Northeast Indiana is home to an amazing charitable spirit, and that is reflected in the many different nonprofit organizations, each with their own services and community expertise. For instance, we began the Community Farmacy program and partnered with Matthew 25 Health and Care to provide food as medicine to halt or reverse chronic illnesses like diabetes among low-income uninsured patients. We've also partnered with Mission: Motherhood to provide diapers to new moms in need. It's important to remember that when a person needs food, they often need other services as well. Instead of reinventing the wheel, we can partner with other organizations that have their own specializations in order to help the whole person, not only feed them.
Are there opportunities for community members to volunteer at Community Harvest Food Bank—and if so, how can they go about learning more?
We love our volunteers! Time, talent, and treasure are always appreciated. Time is precious and valuable, and it means so much to us that people spend some of their time with us to help community members. Whether coloring bags for seniors, sorting food, stocking shelves, or assisting with distributions, we have tons of activities for a wide range of interests for ages 5-and-up. Our Volunteer Manager will have all the current information for opportunities on any given day or week, and can be reached through our online contact page, or by calling 260.447.3696, x306.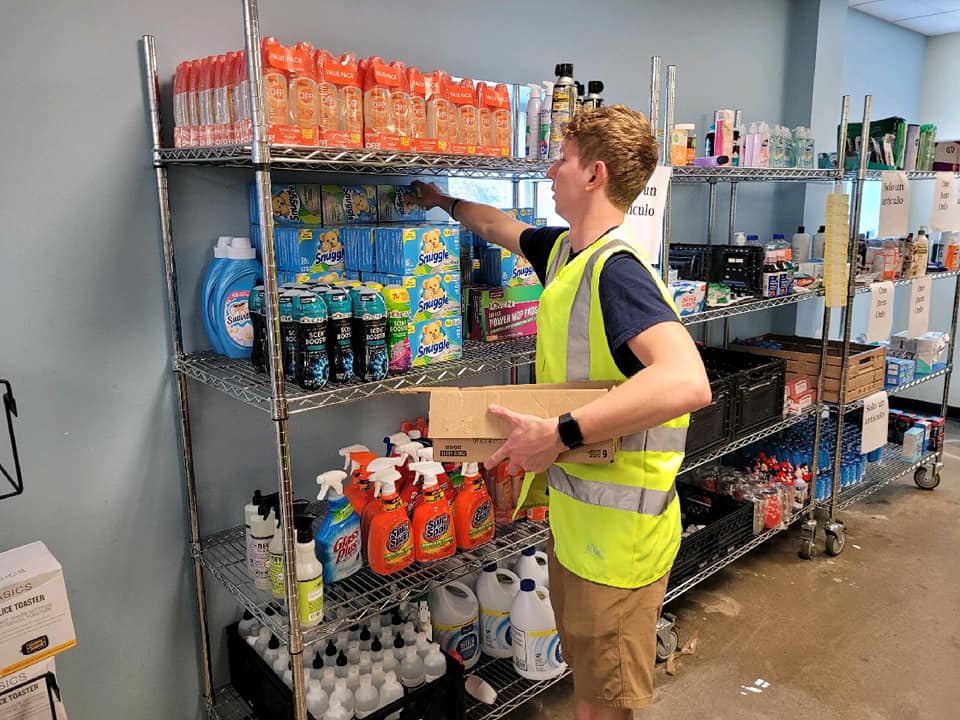 In what other ways can community members support Community Harvest Food Bank—be it through monetary donations, material donations, education, etc.?
Oh, all of the above. Sadly, AmazonSmile was discontinued, but we are working on a wish list for anyone who still wants to contribute! We also participate in Kroger Community Rewards and Walmart's Spark Good. Through both of these, customers can choose to make a donation through their shopping to Community Harvest Food Bank.
If someone is looking to make a direct donation, monetary contributions are great because we can use them towards anything that could benefit the mission like food, equipment, or program enhancements like signs.
Food is also always appreciated. I mean, that's what we do. We have food drives at many remote locations with our partners in the community, and you can always bring donations to our building during business hours. Another way to give is to volunteer. As valuable as food and monetary donations are, our programs run on volunteer help, and it gives people a chance to live the mission, which I always encourage. We have such an amazing network of support in donors and volunteers, and we always love adding new names to the list, so if you're reading this and you're new to the mission, come in and say "hi." This is a community organization, after all, and we're all in this together.
Where can our readers learn more about Community Harvest Food Bank or about getting involved?
The best and easiest place is our website at CHFB.org. We have program information and schedules, volunteer opportunities, and a sign-up portal. Maybe the best thing people can do to always stay connected and informed is follow us on social media, the links to all of which are on our website. I also strongly encourage everyone who wants to stay connected with us to sign up for our newsletter, which can be delivered to you or sent to you in an email, which you can also do on the website through our contact. We take a lot of pride in what we do, so we're usually talking about whatever we have going on in one or all of those places, so if you sign up you will never be out of the loop.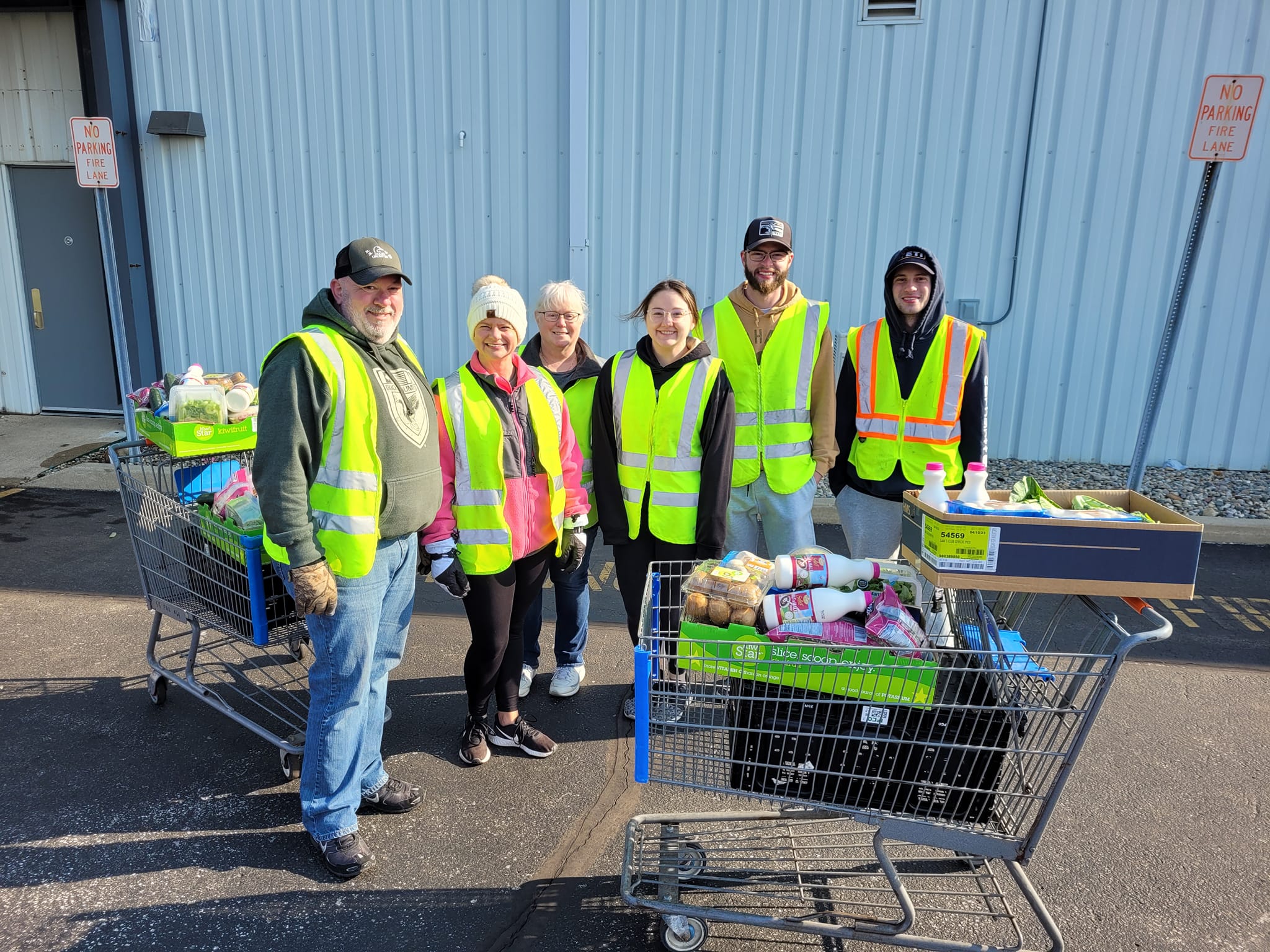 I

s there anything else you'd like our readers to know about Community Harvest Food Bank?
Please come see us! We are always trying to expand or change our programs to reach as many people as we can and to be as understanding as possible of everyone, but the one thing we cannot control is if people who need our help will come and take it. There is no reason people should struggle to find food in this or any community. We are your friends, your neighbors, and your colleagues. We want everyone who needs help feeding themselves or their families to see us and get the help you need. You are a valuable person, you are worth it, and help is available if you are struggling.
Interested in featuring your non-profit on our website and on 97.3WMEE's A Voice for the Good? Text "VOICE" to 46862! Please note that this may lead you to incur standard text messaging rates or other applicable charges consistent with your wireless carrier/mobile phone plan.