Beware of Stimulus Payment Scams: Here's How to Determine Whether Your Paper Check is Legit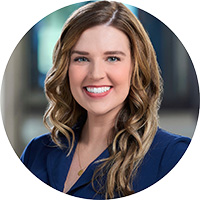 Friday, April 24, 2020
COVID-19
Article updated on January 6, 2021 to include new information from the US Secret Service.
As the US Department of Treasury begins sending physical COVID-19 Economic Impact Payment (stimulus) checks to Americans, the government is asking that citizens be on high alert of potential scams—specifically for fake checks sent by fraudsters in an attempt to get their hands on your information.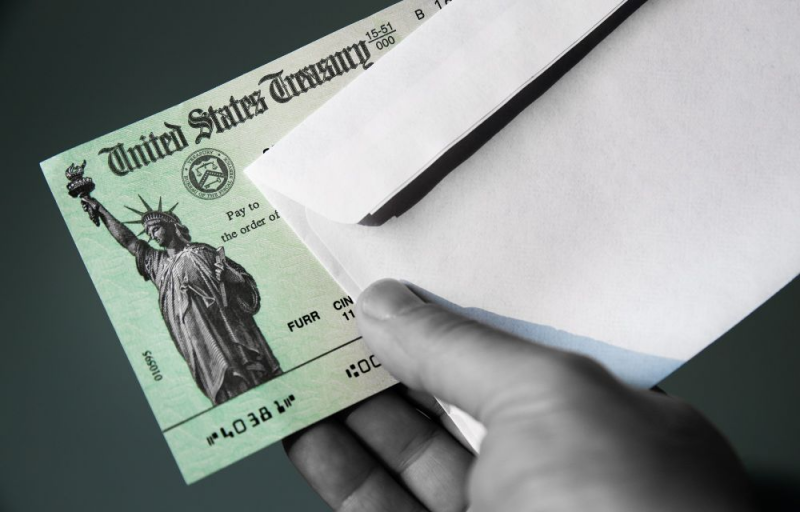 If you're expecting a paper stimulus check (see the status of your payment here), here are some things to look out for to ensure it's legit, according to the Secret Service: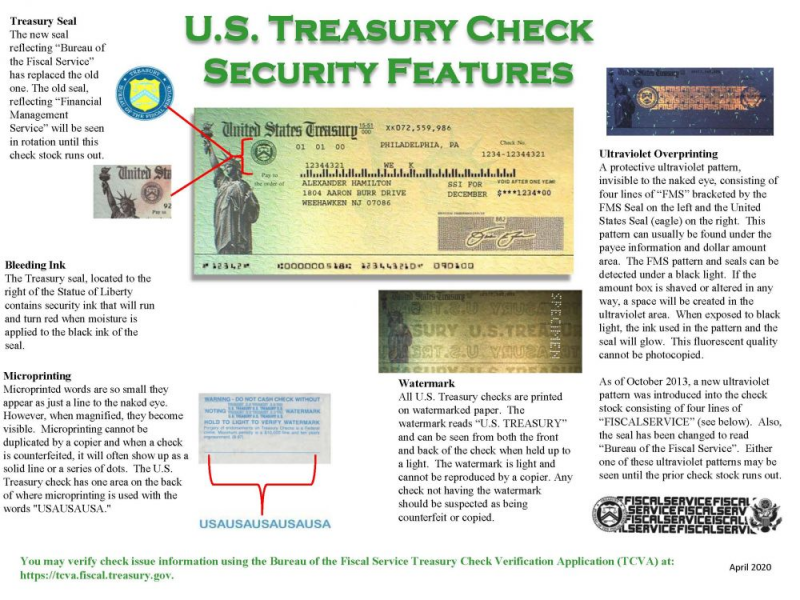 TREASURY SEAL: A new seal to the right of the Statue of Liberty. It should say "Bureau of the Fiscal Service," and has replaced the old seal that said "Financial Management Service."
BLEEDING INK: The seal to the right of the Statue of Liberty when moisture is applied to the black ink will "run" and turn red.
WATERMARK: All U.S. Treasury checks are printed on watermark paper. The watermark reads "U.S. TREASURY," and is seen from both front and back when held up to a light source.
ULTRAVIOLET OVERPRINTING: A protective ultraviolet (UV) pattern is invisible to the naked eye, consisting of lines of "FMS" bracketed by the FMS seal on the left and the U.S. Seal (eagle) on the right. As of 2013, a new ultraviolet patter was introduced into the check that says "FISCALSERVICE". Either one of these UV patterns maybe be seen.
MICROPRINTING: Located on the back of the check with the words "USAUSAUSA."
ECONOMIC IMPACT PAYMENT: The Economic Impact Payment checks will have the following information located on the lower right side of the Statue of Liberty.
There are several ways fraudsters may take advantage of the COVID-19 situation—especially by masquerading as trusted organizations (your bank or credit union, the IRS, the Treasury Department, and so on). Please practice extreme caution if you receive emails, letters, phone calls, or other communications from those claiming to be from these organizations.
If you believe you've been a victim of a COVID-19-related scam, the Secret Service advises citizens to contact their local law enforcement agencies, a Secret Service Field Office, the U.S. Department of the Treasury, Office of Inspector General, the U.S. Treasury Inspector General for Tax Administration, the Internet Crime Complaint Center, the National Center for Disaster Fraud (NCDF), Internal Revenue Service (IRS), or the Federal Trade Commission (FTC).
And don't forget to contact us if you believe your 3Rivers accounts have been compromised! You can learn more about reporting fraud to us here.