New Online & Mobile App
3Rivers' updated online banking and mobile banking app provide our members with many new features focused on helping better manage and keep track of their money. Most of these features and functions can be accessed anytime, anywhere. Here are just a few we think you'll love.
A More Seamless & Consistent Digital Banking Experience
Our new online banking and mobile app will provide a more seamless and user-friendly experience, delivering the same look, feel, and features across both platforms. Plus, our business members will no longer need to utilize a separate mobile app, as our new one houses both consumer and business accounts!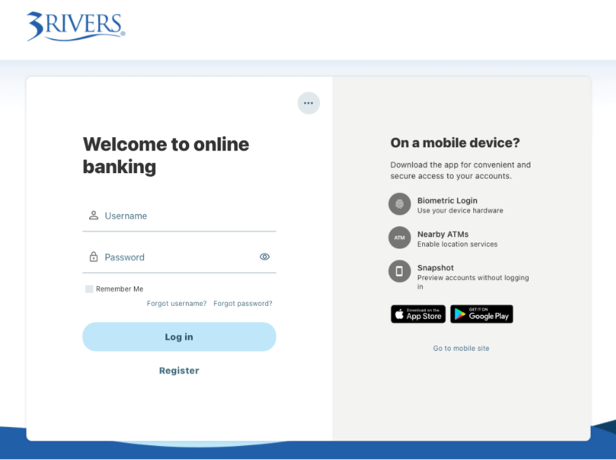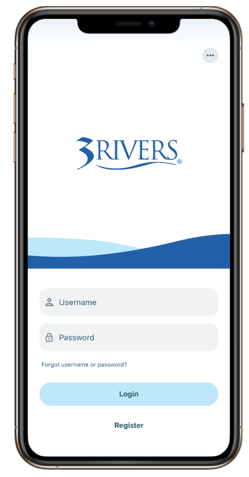 Financial Wellness Tools
You'll have access to several new features geared toward helping you achieve your financial goals. These include a spending breakdown that provides you with a detailed look at your spending habits, categorized into over 20 different types (like restaurants, shopping, groceries, and more) to get a better idea of where your money is going. You can also set savings goals, get access to educational materials, and link financial accounts you have with other banks or credit unions.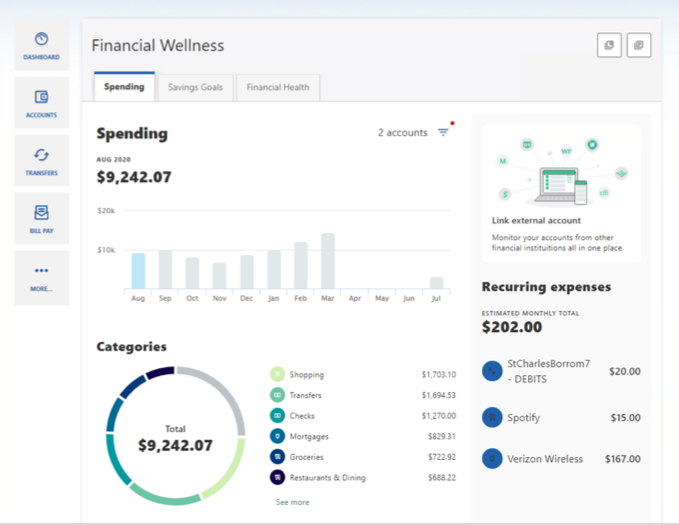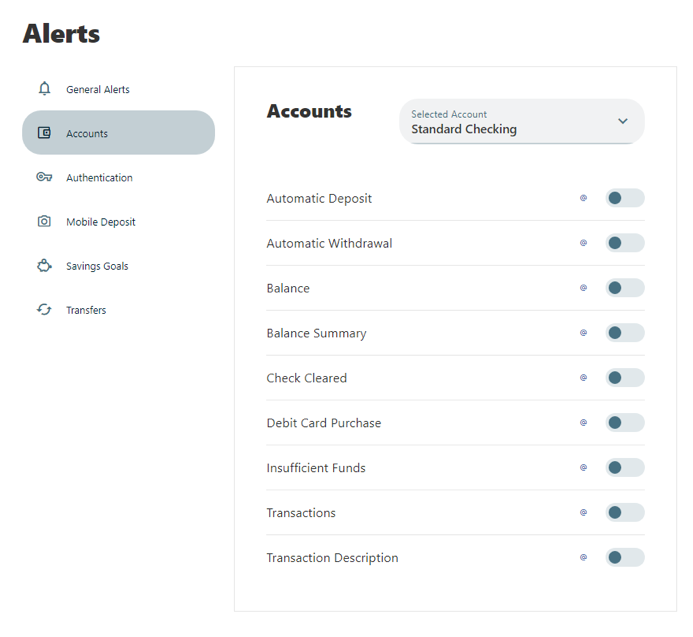 Enhanced Alert Options
You'll have access to more account alert options than ever before! Some of these new alert options include:
Automatic Deposit Alert: Get notified when an automatic deposit is posted to a specified account.
Balance Summary Alert: Receive a summary of account balances at a time and frequency that you specify.
Transaction Alert: Get alerted any time a credit or debit transaction over a designated threshold posts to a specified account.
Mobile Deposit Completed Alert: Get confirmation when a mobile deposit has successfully completed.
Transfer Failed Alert: Receive an alert when an online transfer fails.
Note: Text notifications can only be enabled after you confirm your phone number. Push notifications can only be enabled after you use your preferred device to sign-in to mobile banking.
Link External Financial Accounts
Link accounts you have at other financial institutions to keep better tabs on your overall financial picture! Plus, having your other checking and savings accounts connected to your 3Rivers online banking allows you to more easily transfer money between all of your accounts and make loan payments on your 3Rivers loans.
To view account transactions: Click on the Link External Account option on the dashboard or home page of online banking.
To make transfers between accounts: Navigate to the Transfers section within online banking and link an external checking or savings account to transfer money to and from 3Rivers. You can use this option to pay your 3Rivers loan from linked external account(s).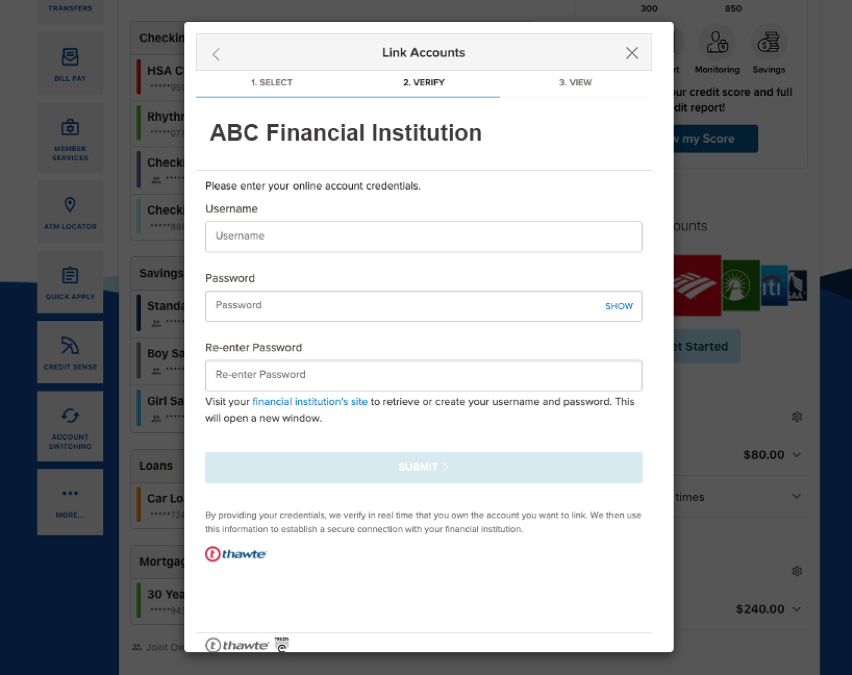 Enhanced Bill Pay Feature
You'll still be able to pay your bills and schedule payments in a more visually and easily navigated solution, but new features will be added. Some of those new features include but not limited to:
Adding memo lines on payments
Alerts options for payments
Two ways to pay bills either through check or electronic delivery.
Multi-Factor Authentication to provide another layer of security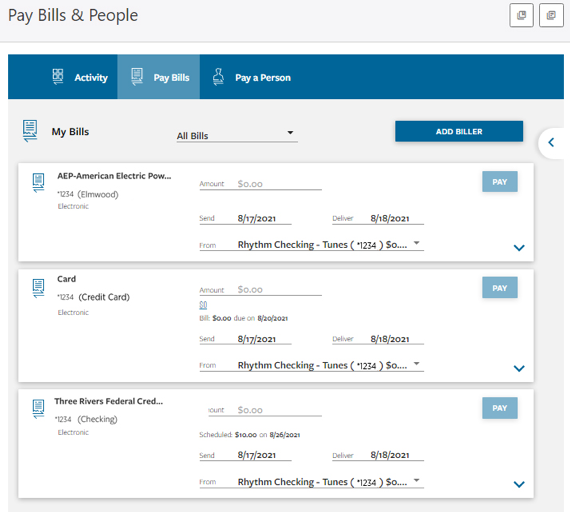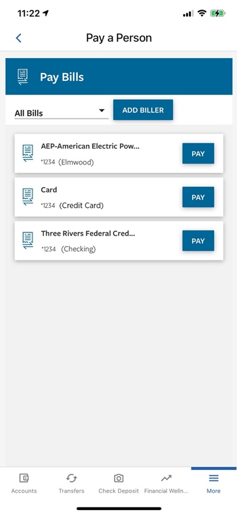 Pay a Person
Pay a Person is a fast and easy way to quickly send money to people from your account to theirs using only their email address or cell phone number. This service is available to 3Rivers members who have a checking or savings account with us. Don't have one yet? Explore our options and open yours today!
Why use Pay a Person?
It's easy. Send money in different amounts at different speeds, and your friends and family can receive the money easily and securely.
It's quick, with next day and real-time payment options.
It's affordable, with free next-day transfers. See Fee Disclosure Statement
Contact your branch representative or Member Services (800.825.3641) with any questions.
Pay a Person: Send/Receive
Last updated: 4/11/2022
| Type | Amount | Instant Transfer Fee | Next Day Fee |
| --- | --- | --- | --- |
| Send | Any Amount | Free | Free |
| Receive | Any Amount | $1.00 | Free |
Need assistance? If you have additional questions, or need help accessing your accounts, give us a call at 800.825.3641, option 8.