SWITCHkit
Simplify the Switch to 3Rivers
3Rivers makes it easy to securely move your direct deposits and recurring automatic payments (like utilities, insurance, or club memberships) to you 3Rivers account(s). Just use our digital SWITCHkit, powered by ClickSWITCH.
How our SWITCHkit Works
1. Obtain a SWITCHtrack code (CLICK HERE if you need one).
When you click the link above or the button below, you will be taken to a request form.
In the "Select Feedback Subject" field, select "SwitchKit" and complete the form.
This form will be routed to the Team3 branch manager nearest to you.
They will set you up with a switch track code and email it to you.
2. Use your code to securely sign onto our SWITCHkit and follow the prompts to quickly and easily transfer direct deposits or change automatic payments and authorize closing old accounts.
3. Our SWITCHkit takes care of everything else by generating and sending completed forms to your old financial institutions and/or billers on your behalf.
Help And Guidance While Switching
Our SWITCHkit also lets you view the progress and details of the switches you've requested. | User Guide
Switch Summary – view progress and details of requested switches.
Switch Status – track and view confirmation when your automatic payments or direct deposits have been switched to your 3Rivers account(s).
Balance Assist – helps you know approximately how much money you should keep in your old account(s) until your switch(es) to 3Rivers complete.
Note: It is suggested that you keep your old account open for 30 days to allow enough time for the switches to be complete and for checks/automated payments to clear. If the switch cannot be completed during the initial setup, you will receive instructions how to complete via email. ClickSWITCH will inform you when they process the request and if any additional steps need to be taken.
TurboTax
If you plan to file your taxes from home, save time and money by doing so with TurboTax®. 3Rivers members can save up to $15 on TurboTax federal products. And you can take comfort in knowing that your taxes will be done right. Discounts available during the entire tax season include: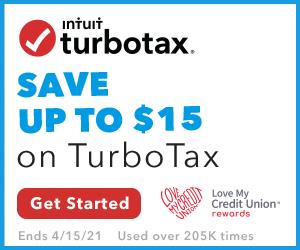 $0 savings for TurboTax Free Edition (Federal & State)


- For members with simple tax returns

$5 savings for TurboTax Deluxe


- For homeowners and others who are interested in maximizing their deductions & credits.

$10 savings for TurboTax Premier


- Designed for all levels of investing and investment types from simple stocks to complex rental income.

$15 savings for TurboTax Self-Employed


- Specifically designed to address the needs of the growing self-employed segment.

$15 savings for TurboTax Live


- Get real-time advice with a tax expert as the member does their taxes.
No tax knowledge needed
TurboTax translates into simple questions about your life, and puts your information in the right places for you.
Double checks as you go
TurboTax coaches you every step of the way and automatically double checks your return for errors.
You're never alone
If you have questions, TurboTax has answers and is ready to help.
Disclaimer
Visit https://turbotax.intuit.com/lp/yoy/guarantees.jsp for TurboTax product.
TurboTax Online pricing is based on your tax situation and varies by product. $0 federal (for simple tax returns) only available with TurboTax Free Edition; offer may change or end at any time without notice. Actual prices are determined at the time of print or e-file and are subject to change without notice. Terms, conditions, features, availability, pricing, fees, service and support options subject to change without notice. Intuit, TurboTax and TurboTax Online, among others, are registered trademarks and/or service marks of Intuit Inc. in the United States and other countries. Other parties' trademarks or service marks are the property of their respective owners.
Car Buying Service
You deserve a complete car buying experience that's simple, hassle-free, and local. Save time and money on your next car or truck purchase with the 3Rivers Car Buying Service, powered by TrueCar. Research thousands of vehicles and see what others have paid, then enjoy haggle-free, guaranteed pricing and savings.
How it Works
SEE what others paid for the new car you want or see used car market value.
GET a new car Guaranteed Savings Certificate or used vehicle Price Certificate.
SAVE time and money with a pre-approved 3Rivers Auto Loan and a hassle free deal.
Features
Get pre-approved so you can shop with confidence as a cash buyer. When you visit a dealer with a preapproval letter in hand, you'll be in a better position to negotiate.
Competitive rates – New or used, 3Rivers offers affordable loans with no application fees or early payoff penalties.
More Benefits
Consumers have saved an average of $3,279 off MSRP on new vehicles*.
A certified dealer network provides a complete car buying experience that's simple, hassle-free and local.
See what others in your area paid for the same car you want.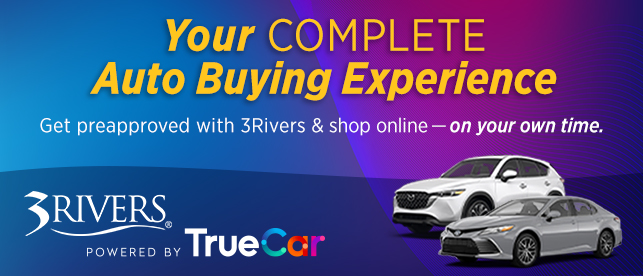 See what others paid for the new car you want or see used car market values. Get our new car Guaranteed Savings Certificate or used vehicle Price Certificate & save time and money with a hassle-free deal.
Be sure to get pre-approved for your car loan with 3Rivers before you shop. With low auto loan rates on new and used vehicle loans, you'll save even more when purchasing your next car!
* Between 7/1/18 and 9/30/18, the average savings off MSRP presented by TrueCar Certified Dealers to users of TrueCar powered websites based on users who received in-stock price offers and who TrueCar identified as purchasing a new vehicle of the same make and model as one of the in-stock price offers from a Certified Dealer as of 10/31/18, was $3,402. Your actual savings may vary based on multiple factors including the vehicle you select, region, dealer, and applicable vehicle specific manufacturer incentives which are subject to change. The MSRP is determined by the manufacturer, and may not reflect the price at which vehicles are generally sold in the dealer's trade area as not all vehicles are sold at MSRP. Each dealer sets its own pricing.