Whether you're preparing for your first year of college or are well into your journey as a student or graduate, 3Rivers has solutions and resources, and a dedicated Youth & College Support Team to help you at every stage!
We want you to reach your current and future goals and are here to support you along the way. We can help you find scholarship opportunities, navigate your financial aid and refinance options, and more, so you can feel confident in making informed decisions that benefit you now and down the road.
Feel free to explore this page for more information, check out our blog posts, or contact us anytime if you'd like to chat!
Why refinance?
Refinancing your student loans can potentially result in lower interest rates, better loan terms, more affordable payments, and the ability to pay them off faster! Plus, it gives you the opportunity to choose your loan company—something that may not have been top-of-mind when you first applied. We'd love to review your current loans and see if refinancing them at 3Rivers could save you money and benefit your overall financial wellness!

Learn how much you could potentially save by using our student loan refinance calculator! Questions about your results? We're happy to review them with you. Get in touch!
Why refinance with 3Rivers?
Refinancing your student loans allows you to not only choose how much you pay toward your loans, but also where you pay your loans. Private loans come from banks and other lenders that parents tend to choose on your behalf while you're finishing your undergraduate degree. Federal loans are determined by the US Department of Education. Refinancing is one of the first choices graduates get to make on their own when it comes to their student loans!
On the Federal side, there are nine servicers that each receive a portion of loans created that year. Convenience, customer service, and the overall experience with these servicers vary greatly—and you may even have loans with multiple servicers! Refinancing with a trusted local institution like 3Rivers gives you the ability to have all your finances in one place, streamline your payments, and have access to our dedicated team whenever you have questions or concerns.
Of course, where you refinance is totally up to you. There are even some online options that may better suit your lifestyle! We're always more than happy to discuss your options with you so you can choose a servicer that best fits your needs.
If you're ready to explore better deals on your student loans, contact us or schedule an appointment today!
Refinance your student loan Contact Us Schedule Appointment
Student Loans
Last updated: 10/1/2023
| Type | Term | Loan Amount | Rate | APR |
| --- | --- | --- | --- | --- |
| Undergraduate Private Student Loan - Variable | | $1,000 - $60,000 | as low as 6.99%(1)(2) | |
| Undergraduate Private Student Loan - Fixed | | $1,000 - $40,000 | as low as 5.49% | |
| Graduate Private Student Loan - Variable | | $1,000 - $60,000 | as low as 8.74%(1)(2) | |
| Student Loan Refinance (Federal & Private) | 12 - 60 months | Minimum $5,000(3) | as low as 7.34% | 8.17%(4) |
| Student Loan Refinance (Federal & Private) | 61 - 120 months | Minimum $10,000(3) | as low as 7.84% | 8.07%(4) |
| Student Loan Refinance (Federal & Private) | 121 - 180 months | Minimum $15,000(3) | as low as 8.34% | 8.45%(4) |
Apply for New Loan Refi Existing Loan
(1) The Annual Percentage Rate is subject to change after consummation. Your interest rate is variable and may be adjusted quarterly on each January 1, April 1, July 1 and October 1 (Adjustment Date) based on the Prime index as published in the Wall Street Journal on the first business day of the month immediately prior to the Adjustment Date (e.g., December, March, June and September). Any increase in the index may increase the APR and the amount of your monthly payment.
(2) (2) The "Index" for the quarter beginning July 1st, 2022, is 4.00%, which was the Prime index published in the Wall Street Journal on the first business day of June 2022. Current offered rate(s) are calculated by using the Index, Margin and Floor value(s) in effect. Your specific Interest Rate and/or credit approval depends upon the credit qualifications of the student borrower and co-borrower (if applicable). The APR will not exceed 18.00%, or fall below the Floor rate (currently 4.99%) regardless of the Index. Margin will be disclosed at account opening.
Student Choice applications are submitted via our website at: http://3riversfcu.studentchoice.org
(3) Total loan amount considered will be subject to a $100,000 unsecured aggregate limit (excludes credit cards).
(4) APR shown is calculated using the 'as low as' rate, the maximum term, the minimum amount, and a $99 loan processing fee. Your rate is fixed at the time of loan origination and will be determined based on your Loan Term & FICO score/data obtained from your credit file. No Early Payoff Penalties.

Membership required, to learn more visit www.3riversfcu.org/join
Meet Our Youth & College Support Team!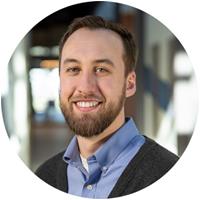 James Cashman
Youth & College Manager
James Cashman is passionate about education. He started at 3Rivers in 2016, and has found joy in connecting students with their dream careers. In his role as Youth and College Advisor, he supports families as they plan for higher education and transition into the workforce.
Prior to coming aboard 3Rivers, James studied Spanish and Intercultural Studies at Indiana Wesleyan University, worked as a social worker in Kalamazoo, Michigan, and taught in Barcelona, Spain.
Outside the office, he serves on the board of directors at the East Wayne Street Center, a local education non-profit, and enjoys travel, languages, and reading.
View Full Bio Page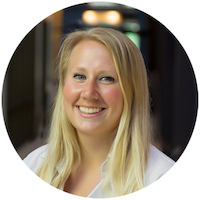 Caitlyn Lawson
Youth & College Advisor
Caitlyn Lawson started her career with 3Rivers in 2016 and has loved being able to help members with their goals and financial wellness journeys. She is dedicated to helping students find their own unique paths upon graduating high school—helping make sense of higher education, career paths, and the many other financial situations students may discover along the way.
Caitlyn's own path to a higher education was more of a zig-zag than a straight line. Feel free to ask, she'd be happy to share more about her own journey and lessons learned!
Outside of work, she helps coach and teach swimming, loves to hike and explore new places, and is always seeking a new challenge to accomplish.
View Full Bio Page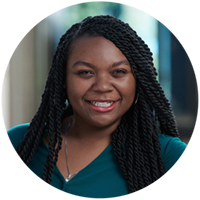 Dashyia Haywood
Youth & College Advisor
Dashyia Haywood is driven to make a difference with the people she encounters. She is passionate about young people and strive to ensure they are equipped with the necessary tools to reach their goals while acquiring education to weigh all of their options. Dashyia joined the 3Rivers team and 2019 and found her niche on the Youth and College Team.
Before beginning a career with 3Rivers, Dashyia worked in the social work sector in a similar capacity—coming alongside families to help them thrive. Dashyia enjoys traveling, swimming, and good music. In her free time, Dashyia works closely to support children and families dealing with the child welfare system. She is an open book and looks forward to meeting new people.
View Full Bio Page